Moving House to a Cheaper Area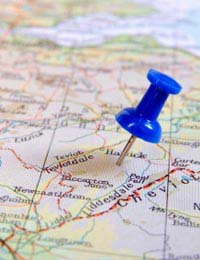 Many People when planning to downsize their lives need to release equity from their current home to fund their future years. One way to do this is by relocation to another part of the country, or even moving to another country.
Follow Your Dream
Many people dream of moving to the coast or countryside. If you need to sell your house and be able to retain enough cash after purchasing your new home to support yourself for the next few years you need to be able to find a cheaper area to live in.
This is all well and good if you currently live in a busy town where property prices are high but for those in the suburbs or the not so pleasant regions of the UK it is debatable whether you will be able to fund your future years by house moving alone.
Study The Market
With the introduction of the Internet it is much easier to follow market trends in property. There are several good online sites that show properties in the UK that are set out in regions. These are contributed to by the majority of estate agencies and not only give an outline of the area but show colour pictures of the insides of the properties as well. This is ideal if you live a long way from the area you propose to move to as you can monitor prices and availability of properties before you even spend one penny on relocation.
Saving Money
If you intend to save money by moving to another similar sized house in another region then it would have to be a lot cheaper than your present home. When selling and buying a house you can easily spend fifteen thousand pounds on legal fees, estate agents fees and moving costs.
One way to save money is to sell the house yourself and save the cost of an estate agent. If your home is in an area that is popular, perhaps near to a good school or a mainline station for commuters then you should have no problem in finding a buyer. A few advertisements in the local newspapers and a homemade sign in the front garden should do the trick.
Similarly if you are brave enough you should be able to do the conveyance work yourself and save further costs. If you are quaking at this notion then at least haggle a good price with a conveyancing company rather than go to a high charging solicitor. Only take this route if the transactions are expected to be straightforward or you have time on your hands to do most of the legwork and letter writing.
A further saving can be made by hiring a van, eliciting the help of friends and family, and carry out the house moving yourself thus saving even more money.
Consider The Size
When considering your relocation to cheaper regions perhaps take a look at smaller homes that need less maintenance. Even a flat or bungalow in a sheltered environment would mean that you have a warden to hand if a problem should arise and also neighbours of a similar age with whom you can spend your leisure time.But wherever you decide to move remember that house moving is expensive and the whole project must be viable if you intend to use your remaining cash to see you into your retirement.
You might also like...