Coach Tours Holidays to Save Money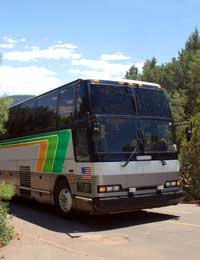 When you have downsized your life you will have time for more leisure pursuits. You may have planned to travel more often but how and where? Have you considered ever taking coach tours or even coach holidays? These types of holidays and short breaks have a lot to offer the keen traveller.
Travelling Alone
It may be that you live alone or perhaps your partner doesn't share your love for travel. Whatever the reason you may sometimes find yourself without a travelling companion. By taking a coach holiday you will be amongst the same group of people throughout the holiday.
This can be a great source of comfort if you are worried about travelling alone. There again consider that you will be in close proximity with people you may not get along with. Someone who considers taking these types of trips must be able to practice tolerance or it could spoil their holiday.
Guided Tours
Many coach tour companies will supply a tour guide as part of the package. This is a godsend to the novice traveller who does not know the area they are visiting. A guide will be able to advise you where to visit and enable you to get the best from your holiday. Sightseeing trips will also be arranged and it will be with a person you have got to know during the coach holiday.
Fear of Flying
For those who are afraid of flying or do not like the thought of travelling to an airport coach tours are the ideal solution. Travelling from the UK to overseas destinations can be done with ease either going by ferry to the continent or by the channel tunnel. From the moment you step onto the coach your holiday will be stress free and enjoyable.
Local Pick Up
Coach tour companies are either local to where you live or have pick up points en route to the destination that are convenient for the traveller. When booking your trip enquire whether you can be picked up closer to your home this way you can have a family member drop you off or hire a cab for the short journey. When travelling alone ensure that you leave your travel arrangements with someone for your own safety.
Cost
Compared to holiday packages involving flying coach holidays and tours are a lot cheaper. Most coaches now have toilet and refreshment facilities and with frequent stops to stretch your legs and comfortable air conditioned vehicles they are the ideal way to take a holiday.
Short Trips in The UK
Before embarking on a long trip overseas with a coach tour company why not try a short tour in the UK? You will often see these types of breaks advertised in your local newspaper or tourist office. Sometimes there are day trips arranged by the coach tour company to local beauty spots or special events.
If you belong to a community group you will find that they organise sightseeing day trips with perhaps a stop for lunch or a cream tea. Taking day trips could whet your appetite for a longer overseas coach holiday.
You might also like...