Downsizing when your Children Leave the Family Home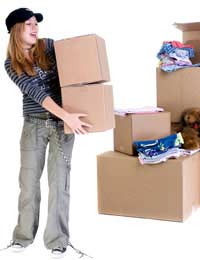 The time will come when your children leave the family home either for further education or to start their own families. Have you thought about your future life and how it will be without the children at home?
Stay or go?
Once the family have fled the nest it is very tempting to think about moving to a smaller home. Before you rush ahead and put the house on the market consider whether this is a good idea. Will your family ever return and need a roof over their heads? Where will they sleep if your new home is smaller? You also have memories stored in your home and by moving to another house you may be saying goodbye to your previous life. Sometimes people move simply because of a knee jerk reaction to change. Take a while to think about your future before making any major decisions.
Downsizing
Moving to a smaller house could be beneficial as it will save money on heating and council tax expenses. You could also end up with some money in the bank for that rainy day or to treat yourself. Remember though that moving home can be expensive and will eat into the profit made from the sale of your home.
Staying put
There are ways of saving money and staying in the family home. You will have room for when your family return to visit perhaps even with their own young families. You will have the chance to turn the spare rooms into a study or somewhere to follow a hobby without having to clean up at the end of each session. Perhaps you could use one room to supply bed and breakfast if you are in a tourist area or if not take in a lodger.
Storage
When downsizing to a smaller home you may find that family treasures no longer fit the new home. Pieces of furniture that have been passed down through generations cannot be discarded at the local antique emporium or sold on an Internet auction line. Would your children want them? Most likely they are too old fashioned for young people living in modern homes or flats. While you decide what to do with your possessions place the items into storage. Storage depositories are quite easily found in most areas, You will have to arrange transporting them to the storage facility and also pay a weekly or monthly fee. Make sure these items are properly insured and that your insurance policy covers them outside of your home.
Relocation
When the family leave home it could be the time to follow your dreams and relocate to another area or even another country. Downsizing to another area is often a dream but you will now have the opportunity to follow your dreams and spend the rest of your days enjoying your life by the sea or in the sun. Do not worry about your families feelings, they now have their own life to lead. You have spent years looking after your family now it is your time to enjoy yourself.
You might also like...
Shelley - Your Question:
I have a 3 bed end terrace house, which is costly to run, as a single person with no kids, and not going to have any, I am seriously considering selling up and downsizing buying either a 1 bed cluster home or a flat,Agent has valued it and told me the moving costs of solicitors fees and removals will be about £4,000. Stamp duty on place I would buy would be about £1500. These high costs worry me.I really want a place that is smaller and cosier. Any useful comments or advice appreciated. thanks Shelley
---
Our Response:
Have you any equity in the property? If so, then hopefully the high costs would be swallowed in the equity release. There are also other options such as doing the conveyancing yourself, or even marketing your house yourself. Estate agents and solicitors are costly, and there are alternatives out there, such as advertising on a well-known property website yourself. If you do a bit of online research, you can find out how much it would save. Alternatively, you could look at the costs being swallowed by the amount of money you would save when you move. You could a) buy a place under the stamp duty threshold price, b) factor in the costs you would save on heating, council tax and garden maintenance etc. However, be aware that flats do have ground maintenance and service charges and these can be quite hefty on a monthly basis. I'm sure if you do enough research, over time you will be able to make your costs disappear. I hope this helps.
DownsizingExpert
- 18-Sep-15 @ 3:06 PM
I have a 3 bed end terrace house,which is costly to run, as a single person with no kids,and not going to have any,I am seriously considering selling up and downsizing buying either a 1 bed cluster home or a flat, Agent has valued it and told me the moving costs of solicitors fees and removals will be about £4,000.Stamp duty on place I would buy would be about £1500.These high costs worry me...... I really want a place that is smaller and cosier... Any useful comments or advice appreciated.thanks Shelley
Shelley
- 17-Sep-15 @ 6:25 PM