Entertaining Friends After Downsizing Your Life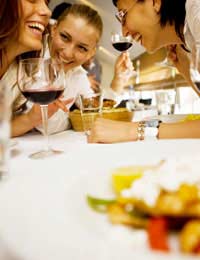 After downsizing your life you may not be able to spend as much money on entertaining friends as you did in the past. Here we show you ten ways in which you can still entertain and enjoy yourself without breaking the bank. Don't make a secret of your cost cutting plans as your friends are sure to want to join in with the fun!
1. Dining on a Budget
Make fun out of saving money. Set a budget for a three course dinner party for four people. A popular way to do this is to have a ten pound three course dinner party with the other couple reciprocating the following week or month. At the end of the meal you have to produce a costing of the meal to show fellow guests. This obviously does not include alcohol (although you can have fund making your own wine and beer), but the whole exercise will be to outdo each other with ingenuity and originality. You can make it more fun by dressing for the evening as if it was a black tie affair.
2. Food Starting With...
Similar to the above party but you can only serve foods starting with certain letters of the alphabet. This will really make guests stop and think!
3. Murder Mystery Evening
These events can be so much fun. A murder mystery pack can be bought from games shops or even downloaded from the internet. If you are so inclined you could write your own. The mystery could be set in a haunted house, a film studio or even on a tropical island. Invite guests and send them a description of their character asking them to dress the part. Once at the event you can lay on drinks and simple nibbles as guests will be too busy playing through the murder scene to pay attention to food.
4. Themed Music Evening
Hold a themed evening such as a seventies night. Ask guests to wear one item from the era such as droopy earrings or a kipper tie, this way shy guests will not feel they have to dress outrageously. Pick some music from the time and also retro' finger foods such as cheese and pineapple and vol au vents to get people chatting. Place prompt cards around the room asking pertinent questions about the era will add to the fun as will old photographs of when you were younger.
5. Film Evening
Change the above idea to a film evening where guests dress as one of the characters from the film and bring food eaten in the film. A DVD can be rented and the film shown during the evening.
6. Come to my Country Evening
Choose a country that is different to your own and invite guests to visit this country – in your front room. Each guest has to bring either, a drink, starter, main dish or dessert as well as an amusing news item from the chosen country. Dressing in the style of the inhabitant of the country will add to the fun. By sharing the cost of the meal an unusual evening can be shared without too much cost.
7. A Rambling Party
In good weather invite friends for a ramble in the countryside. You can supply a map based on the fitness of your friends which could end at a pub. Take a meal with you that can be carried in a back pack such as warming soups or tasty rolls and cheeses. This could be made more fun by giving each person a list of items to find during the ramble rather like a treasure hunt such as an oak leaf, a bus ticket, a lolly stick, a length of string. It's amazing what one can find whilst walking.
8. A Sausage Party
Guests have to bring their own sausages to the party – the more unusual flavour the better! This can be done as a barbecue event during the summer.
9. A Children's Party
But for adults! Lay out the type of food you would eat as a child and miss so much now. Add to this a selection of sweets from your childhood. These are available on internet sites and in shops as pick and mixes. You will be amazed at the conversations and memories a few sweets will start.
10. A Race Night
Record horse races from the television and let your guests bet on each race. Tokens can be made if you do not wish to gamble with money or perhaps chocolates. Supply hot dogs and burgers for the interval.
You might also like...