Moving to Smaller Property When You Retire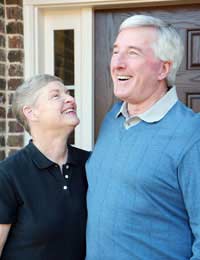 When you decide to retire you may wish to move to a smaller home, this can be for many reasons but should be thought about carefully as you plan for your future.
Travel
Many people plan to travel once they retire, in fact quite often they will take early retirement in order to be able to enjoy the money they have saved. By moving to a smaller home the revenue from your house sale could fund your travel plans. If you plan to be away from home for a considerable time you could rent out your home and earn an income from it during your travels. There are agency that will do the work for you, vetting the tenants and collecting the rent on time. This will take the worry away from you and leave you to enjoy your retirement.
New Location
You may be moving to another area of the country. Many people decide to reside by the coast or perhaps a place they have enjoyed visiting while on holiday. It may be that you have only visited these places at the height of summer. Visit and stay out of season before making any life changing decision.
Business
It may have been your dream to start your own business once you retire. Take time before leaving your job to look into the business of your choice. Speak to others in the same trade and check out competition in the area. If the business is already trading employ an accountant to look at the books and discuss the business with your bank manager.
Help
When downsizing to a smaller home in retirement consider whether you will need help in your later life. Do you have family living nearby that can be called upon to help if you should fall ill? A popular choice for the older person is to buy a bungalow or flat within a community where there is a person living on site that can help out if you should need help. There are grounds that can be enjoyed and a community spirit but at the end of the day you can close your front door to your own home.
Illness
We all have to consider what will become of us in later life if we are ill or inform. For those with a property it could be taken to fund the cost of caring for you in a nursing home.
Family
You may be fortunate to have a family that want you to live with them when you retire. After living in your own home it May be uncomfortable for all concerned when you move in with a son or daughter and their children. Better that you have your own rooms and can live independently than as part of the family.
A good way to achieve this is to use funds for your home and have an annexe, sometimes called a granny flat, extension built as part of your son or daughters home. Subject to planning permission this is normally an ideal choice and will also give something to your family by increasing the value of their home.
You might also like...
The bungalow is still an idea popular with people when they retire, for fairly obvious reasons. As you age, not having to cope with stairs can seem attractive, and it's unlikely you'll need anything bigger than a two-bedroom house. Additionally, bungalows tend to have larger gardens, a big plus for many retirees.
Jean
- 11-Sep-12 @ 2:04 PM
Perhaps the best reason to downsize your house on retirement is to cash in on how much the property will have appreciated over the years. Yes, you'll still need to buy somewhere else, but a smaller property might well be cheaper, and more suited to changing needs (such as a bungalow) as well as putting more money into your retirement fund, which can be very useful for anyone on a fixed income.
Louise Anderson
- 4-Jun-12 @ 11:29 AM