Finding Work After Downsizing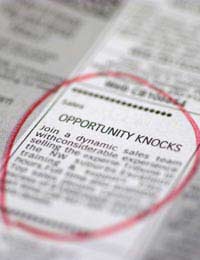 For the older person seeking work during this recession it is hard but once you have left work and downsized your life it can be even harder. Here are some ideas for seeking and generating income that may just work for you.
Approach Previous Employers
As long as you haven't moved too far from home you should consider writing to your old employers. Keep the letter chatty and friendly and do not make yourself sound desperate. Tell them you are considering taking on a part time position and do they have any openings. Never expect to go back to your previous position or salary as part time work quite often doesn't pay as well as full time positions.
Write an Up to Date CV
It could have been some years since you had need of a CV. Take the time to write a new one and try to keep it to one sheet of paper. If your CV writing skills are rusty contact Learn Direct or your local Jobcentre for advice. Once you are happy with your CV go online to search for agencies that list jobs. There will also be job sites attached to most local online newspapers. Such is the public's need for work at the moment that you will need to check at least once each day and apply at once for any suitable vacancies.
Searching for Work
Print off a number of your CV's and write a covering letter. Visit every trading estate in your area and drop off a letter into each company that look as though they take on staff. It is no point going to small units that may hold sole traders. Make a list of the companies where you leave your envelopes and three days later telephone each one before striking them off your list. You may just attract the attention as someone who needs your skills or is impressed by your job hunting endeavours.
Advertise Yourself
Write out a card describing your skills and place it in newsagents near to where there are companies who may have need of your skills. Staff have to shop and your advert could be noticed.
Consider Changing Occupations
You may be surprised to see that the kind of job you used to do is not longer available. Consider trying something new such as working in a care home or hospital or retraining for IT work.
Use your Hobbies
How about your hobbies? Do you have any that could be turned into earning an income? Any crafts that make items for resale could earn you money as a part time job by taking a stand at a craft fair to show your skills.
Teaching
Have you ever considered teaching your hobby or work skill to another adult? You do not need a teaching certificate to teach a leisure skill in adult education although you will be expected to attend courses for teaching skills. Contact your local Adult Education Centre and ask if they would consider running classes or are looking for a tutor. Other teaching centres for adults include the Workers Education Association (WEA) and the University of the Third Age (U3A) and both of these take on tutors for various interesting courses.
Go it Alone
Do you have a skill that you could teach to groups of people? Why not rent a church hall or small room and run your own courses? Meeting people with similar interests to your own could lead to joining together to generate work or hold exhibitions. Set up your own website to attract other people to your classes.
Write About It!
Are you good with words? Why not write a 'how to' book and self publish it? Visit groups and give a talk about your subject and always have a pile of your books to sell.
Sell it Yourself
Some people have found that selling unwanted clothing and household items on online auctions has led to a new part time job. You could start to collect vintage clothing, old china or postcards and sell them online to earn a good income.
You might also like...