Retraining in Order to Downsize Your Job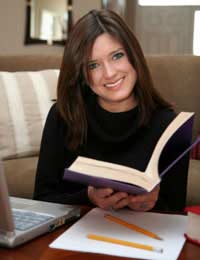 There may come a stage in your life when you no longer need to work such long hours, commute every day or have such a stressful job. It may be that your mortgage if paid off and the children have flown the nest. It would be worth considering retraining for a job that gives you more leisure time and a simpler pace of life.
Your Partner
If you feel that a change would suit you then discuss it with your partner, you must have their support as it will affect their life as well as yours. Work together on a budget that will allow you to downsize your occupation and give you an idea of how much money needs to come into the home each month. Is there any way that you can cut down on outgoings or make savings? Armed with this information you will be able to look for another occupation and spend time retraining without encountering hardship.
Pension
It may be that you have paid into a pension scheme that will be able to support you during the time it takes to retrain. It even supplement your future income so you do not have to work full time or can enjoy a lower paid occupation. Talk to your financial advisor about the options available to you.
Interests
If you are thinking of retaining for another less stressful occupation take a look at your hobbies and interests. Would it be possible to turn one of them into a new occupation? A lifelong interest in books could lead to a job in a bookshop or perhaps as a librarian. If you have always enjoyed cooking catering could be a new career either working in a restaurant or setting up a catering business. The choices are endless.
Your Present Occupation
It may be that the company that you work for would consider downsizing your job. There may be another part time vacancy within the company that you could be trained for. It is worth asking the human resources department about this possibility.
Advice
Make an appointment at the job centre for advice on what training is available. It would help if you can give them some idea of what profession you wish to go into. For some trades there is free training but for others it may be that you have to pay for the initial training course.
Adult Education & College
Go online and take a look at what is on offer at your local colleges and adult education centres. Courses start at different times of the year and you may find a course that covers your interest. There again something may catch your eye and give you an idea for a future job.
The Older Employee
Many larger retailers now prefer to employ the older person. DIY centres are prime examples of companies that have found that the older person is reliable, keen to learn and is more helpful to the customer. With varied hours available and onsite training this could be an occupation for someone who had never thought of entering the retail trade.
You might also like...